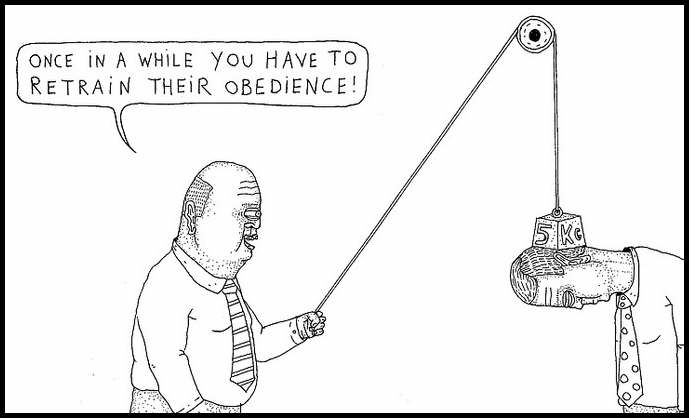 Of course obedience is a virtue; you would expect it from your dog and small children, but it has little place in adult relations except in some jobs and the military.
"Blessed are the obedient" expresses the ethic of unequal relations. In Antiquity, children and slaves were taught the ethic of submission. In the Roman civil society children were lowest while in the kingdom of God those like them are greatest. (Mt 18:1-3)
St. Paul was the first to exhort Christians to excel in the virtues of the time. He thus recommended obedience to children and slaves, submission to women, and "the obedience of faith" to converts. It will take twenty centuries before a successor of Peter wrote about the "joy of the gospel" in lieu of the obedience of faith. Today the moral core of the family, education, and the civil society is the ethic of active participation, not obedience and submission. And so it should be in the church.
It is not those who say "Lord, Lord" who will enter the Kingdom of heaven, but those who do the will of the Father (Mt 7:21). This is an exhortation to do the work of God, as illustrated by ...
Read the entire article
---
LENTEN REFLECTIONS

February 18: Francis Berna - Feruary 25: - David VonSchlichten - March 4: Philip Thompson - March 11: SimonMary Aihiokhai - March 18: Dan Finucane - March 25: Jill Raitt.
---
ARTICLES OF THE MONTH:
Is Latin America Still Catholic? by Andrew Chesnut
The ecclesial imperative of educating Hispanic children in Catholic schools by Hosffman Ospino
"Serving the Church by Changing Diapers, and other Mundane Activities" by Jeffrey Morrow
"Parish as Institution or Communio?" by Marti R. Jewell