The Problem: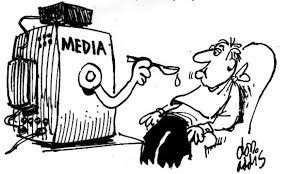 Most people today frind their soul food in the media. Fortunately the menu is very varied and at times of high quality. Where do you find soul food on television, CDs, your cell phone, and the internet?
Like all good things, the media, especially cell phones, can be addictive: they limit one's attention and focus on one's addiction. Students in class stop listening, people in trains or planes ignore their neighbors, and conversations are interrupted by cell phone reading. How bad is this epidemic of addiction today?
Addiction to the media in turn produces latent anxiety--which is not the case when reading books or newspapers. Latent anxiety is anxiety that is ignored or denied. How much latent anxiety is there today, e.g. when talking about politics? There is also a sense of insecurity among those who use the media most, the young.
COMING DISCUSSION:

The church as institution
---
ARTICLES OF THE MONTH:
"Parish Priorities and Clericalism" by Dee Christie
Celebrating Marriage – Is it time to adapt? by Francis Berna
Liberating Conscience: An End to Magisterial Authoritarianism by Todd Salzman and Michael Lawler
"Apologetics as a Critical Feature of Catechesis" by Daniel Lloyd