Dear U.S. friend,
My parish is my second home, together with my house-church. I am very attached to it because I have given it a lot of my time, a lot of my life, and I have also received a lot from it.
The best description of my parish is that of a community center. That's where people go when they are in need. We have very limited facilities and resources, but we try to get the best out of them. For instance, we do not have sports facilities like the Mormons. Every Mormon temple here has a neat basket ball court that is the envy of all the kids; quite of few of them, I am sure, would not mind becoming Mormon just to be able to play there. We cater more to adults and young adults. For instance we have a room with about twenty computers and instructors, so that students can improve their skills, as most of them do not have computers at home.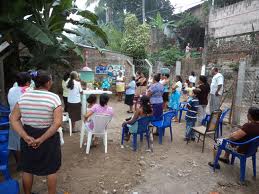 Like most parishes, we offer a lot of social services. We have a pharmacy (like most parishes) that sell medication at whole-sale prices. We also have extensive health facilities. Every morning there is a nurse to treat a long line of patients who can't afford a doctor. We have a small clinic with a female doctor; there are dental services; there are two psychologists to help individuals, especially children with learning difficulties. We particularly help young mothers. We just acquired a sonogram for pre-natal checkups. We invite future mothers to come regularly for prenatal visits, and we try to teach them basic rules of child care when they come back after childbirth. Our nation have a high birth rate, and many mothers are single, that is, poor, without social support and marketable skills. In their stressful and insecure lives, it is difficult to give their kids a religious education unless we help them from the start.
At the other end of the spectrum, we have a soup-kitchen that serves lunch to about 60 to 70 people everyday. We take food to the home of those of who can't come. All those in need are welcome; the program is announced in church, with personal invitations for those who don't come to church. At the beginning we checked if they were really needy, but no more. The cooking is done by volunteers; there is a different team every day, with a coordinator as an overseer.
The parish endeavors to serve the spiritual needs of the community. There are lectures and seminars for the newly weds and new parents. For first communion and confirmation, the pastor has a policy of "no questions asked:" we go to the homes of non-practicing parents who are often in an "irregular" situation and invite them to send their kids; we will not embarrass them with inappropriate questions. We also have a strong ministry to the seniors and the sick. We organize excursions and activities, trying to bring diversity in their lives so that they forget their miseries and feel valued and strengthened. We visit them in their homes, trying to help with cleaning, get them food, medication, take them to the doctor, and so on.
More than anything else it is the secular activities going on at all time that make our parish a community center. Here is the program for this season: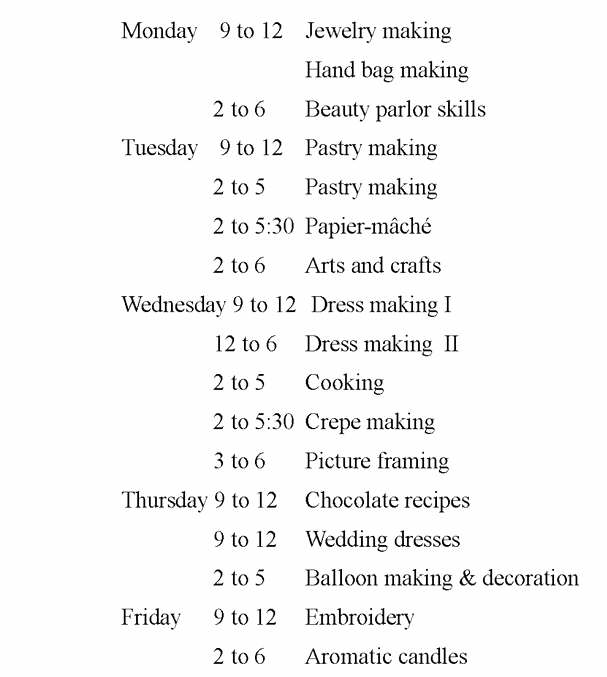 These workshops create a lot of interaction in our parish. You can drop in at any time and find something going on. These elementary skills have a direct impact on the lives of our people who are mostly poor. They will not only enrich themselves personally but achieve marketable skills: after learning how to make candles people can to sell them in the streets and in front of the church for devotional purposes; dress making and embroidery can allow one to start a little business as a seamstress, and the skills in various arts and crafts, cooking, and house decoration will boost self-esteem and entrepreneurship. The interaction by itself is valuable. I myself sometimes teach cooking. It encourages me to try new recipes, easier or faster ones, and I discuss them with the class. In these cooking workshops we discuss a little bit of everything: the kids, the husbands, prayer, the parish, and problems in the neighborhood. In a certain sense, these workshops are forms of community building, and in that perspective, our parish is truly a community center, not just a religious service station.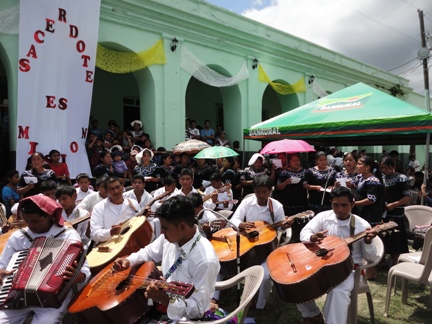 These activities may give you the impression that our parish is like a country club of fun and entertainment. That would be being blind to the life of faith that animates the volunteers who run these activities. These volunteers are actually true missionaries; without their zeal, love and faith, a parish can easily become like a private club, the result of what sociologists call institutionalization, but this is not the case here. Come and visit and you will see.
What about your parish? Is your parish your second home? Why not? What kind of community services do you offer besides thrift shops of used clothes? I was told that your immigrant parishes of the past had a lot of these activities, being the "melting pots" of the American society as well as people's cradle of faith; what happened since then? Tell me!
GO TO: THE CHURCH AS MARGINAL KINGDOM