1. I belonged to a lot of Catholic organizations... When I was 50, I went to a life in the Spirit seminar. There I heard someone say they made sandwiches for a Pentecostal minister who goes to the city and feeds 500 people every Saturday. I felt I can do that. A voice within me said (choking), "Do it, I will help you."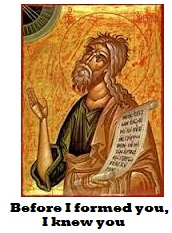 That was 24 years ago. By 1990 I had a Lutheran team, a Presbyterian one, a Jewish one, and a Buddhist one, a total of 25 teams, all making peanut butter sandwiches every week to be taken to people on Mondays. Then I started a soup kitchen that feeds 200 people every Saturday. A few years later I started sending packages to missionaries, 35 lb packages with medicines, vitamins, school supplies, etc As of today we have sent 2,200 packages to foreign missions; 15 every month.
I found out that the more you give away, the more comes back. So many volunteers want to come to help that we have to limit the volunteers sometimes. One of my joys: on Saturdays we start at 8:00 am with prayer, scripture readings. At 12:00 when we close, everything is put away in half an hour; it is like an army of bees. The soup kitchen does not need me; it is I who need the soup kitchen. I don't get burned out, it's the fire that you get.
2. Some callings are thrusted upon you. We had the awesome responsibility to take care of my sister in law who has down syndrome. She is 35 years old, but will always behave like being 12. When my mother in law was no longer able to take care of her, I talked it over with my wife. We had her now for eight years. When an opportunity came to get her in a group home two years ago, I felt that God had not yet released me for this responsibility. But now it is time for her to find a home to go to. We are also close to retirement, and now it is time for me to be more with my wife. This is a ministry that was thrust upon us to take care of her. We had my mother in law move in with us for two years when we had to hire someone to help when she became incapacitated. It was an absolute joy to take care of her. When I will stand before my maker, I want to be told "Well done, faithful servant."
3. I worked my whole life fixing cars, but I also had a chance to preach, did street ministry, and prison mininistry. I learned that wherever God puts me I must be available, either preaching in the streets, or in prison, or working on cars. Being a father was also one of my ministries. No one position became my only priority. Even if I were confined to a 8 by 10 cell for the rest of my life, I would be God's child in that cell. "Lord, wherever you bring me, that's where I am going to be until you move me again." That's what worked for me; that brought me most happiness.
4. In 1959 a cop told me I had the opportunity to take kids out of jail if I take them to work with me. I said, "OK." My wife's uncle was a judge and she called him. Each time the judge had a junkie, I took them, gave them a job and set them up.
One young fellow we had with us for a long time asked me to come to court with him. The judge there asked only one question to me, "Will you keep him working with you after knowing what he did?" He was on a drug charge; he had been on parole for five years. The judge let him go and he was released. I kept him two more years. I had a lot, a lot of kids that I took in. I showed them God's love, smiling, one day at a time. I never said to God I want to do this. It just happened. I used to go to a home for retarded kids. I liked a given kid. I took him to church. He robbed the pastor's wife. I didn't even know it. But I enjoyed taking care of him.