| | Parish priorities |
| --- | --- |
What are your parish priorities?
1) Argentina: SOCIAL ACTION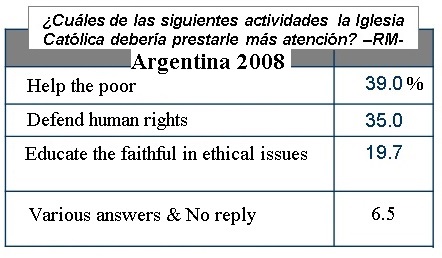 In 2008 a sample of 2,403 Argentinians, people were asked about what should be the most important activities of the Catholic Church. Here are their answers (as seen on the left):
1) help the poor: 39%.
2) Defend human rights: 35%.
3) Educate the faithful on ethical issues: 20%.
4) Be a channel for protest and social struggles: 2%.

For Argentinians, as for Pope Francis, social action is seen as most important by far.


2) ACTUAL U.S. PARISH PRIORITIES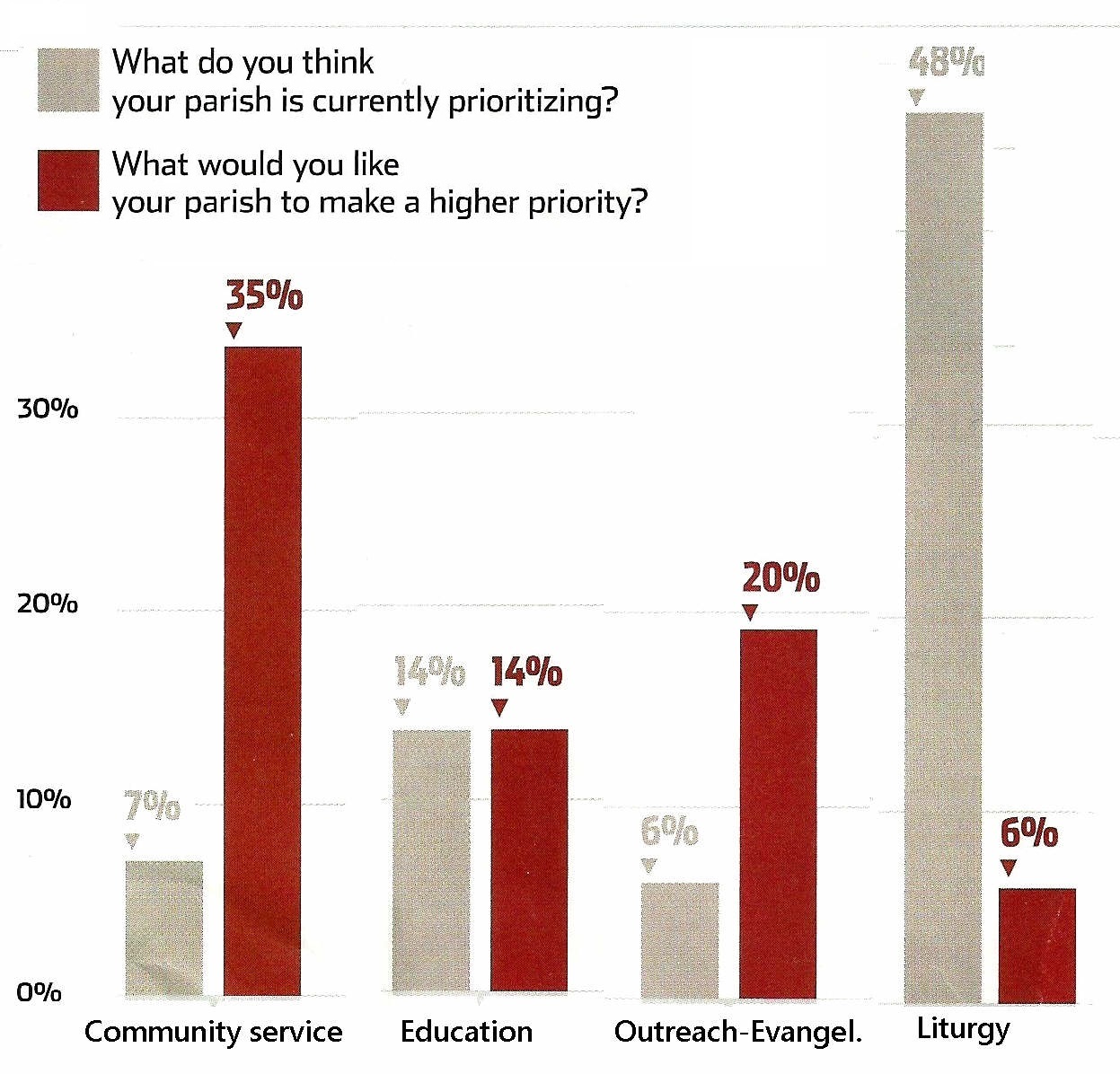 America Magazine (April 2017) has taken a survey among its readers about church priorities.




What are currently the priorities of

your parish?

1) The liturgy: 48%. 2) Preaching 14%. 3) Education 14%.

 4) Music: 10%. 5) Community service: 7%.

Parishes are seen as inward looking, centered on the liturgy, preaching and music.



3) PEOPLE'S PRIORITIES

Here are the priorities which the people in this sample would like to see:

1) Community service: 35%. 2) Outreach and evangelization: 20%.
3) Education: 14%. 4) Ecumenism: 10%.
5) Preaching 10%. 6) The liturgy: 6%.

Parishioners would like their parish to be outward looking, centered on community service, outreach, and ecumenism.

The liturgy ranks lowest.


4) NEEDED IMPROVEMENTS: What improvements are most needed in your parish? (e.g. liturgy, preaching, education, outreach, etc.) Here are my preferences for your reflection.

My first priority: the liturgy and preaching. Both are people's main spiritual nourishment, and both have not been good enough to prevent 20 to 30 million baptized Catholics from leaving the church. Preparation for preaching accounts for only about 5% of seminary training. The sacraments are often just "administered" because rituals are seen as having an automatic effect ex opera operato;" there is little or not enough emphasis on "fruitfulness" or inner disposition. Good liturgies and good homilies are available online; I enjoy some of them nearly every week.

My second priority: building communities. The immigrant parish was a community center that fulfilled the religious, social, economic, educational, and civic needs of its people. Today's parishes are mainly cultic centers. Research has shown that retention is greatest in communities with strong social integration. Each parish is different, hence each parish must be creative in serving the special social, cultural, spiritual, or educational needs of its members. But without strong social, cultural and religious engagement of the parishioners, the church is mainly a religious shell.

WHAT ARE YOUR PRIORITIES?