If you are from AFRICA, INDIA, PHILIPPINES, etc. tell us about your experience! Write to me at: hegy@adelphi.edu.
---
August 15, Assumption Day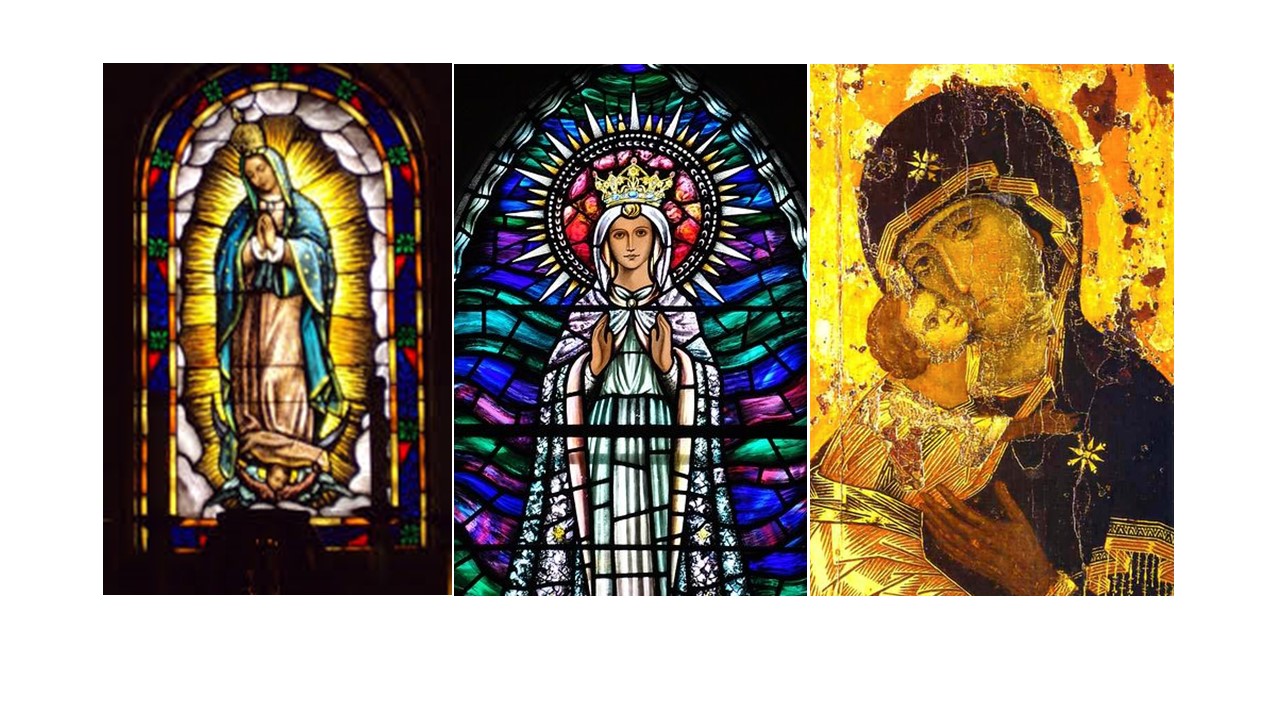 MARY, MOTHER OF GOD
 Devotion to the Virgin Mary has always been inspired by the love and veneration of Jesus Christ, the Son od God. Although there is little in the Scriptures, there is enough to justify our veneration. There are three basic texts.
The Annunciation is the story of Mary's vocation, and also of our own. In any vocation there is a dialogue like, "How is this possible?" – "Nothing is impossible to God." – "Let it be done according to your word."  Our most common vocation is to have been called to be part of the church of Jesus Christ, and we all had the opportunity, at one time or another, to doubt, question, resist, and finally say "Yes."
Mary followed Jesus to calvary when all the disciples fled. We all have the opportunity to be faithful when it is easier to give up and say "I just had it!" For instance, in times of serious sickness, financial disaster, family breakdown, or the death of a loved one.
Finally, on the cross Jesus said to John, "Behold your mother," and to Mary, "Woman, behold your son." Jesus thus instituted Mary as the New Eve who will generate many beloved disciples like John.
These three texts have inspired at least three types of devotions: that of the followers of Christ who also venerate his mother, that of the suffering people who turn to Mary as Mother of Sorrows, and that of disciples who ask her to help them in their imitation of Christ. Moreover, today there is also the tendency to reject all Marian devotions.
1.         The veneration of Mary has been part of the Christian faith since early Christianity. The First Council of Nicaea in 325 defined the virginal conception of Jesus, and hundred years later in 431, the Council of Ephesus in 431 officially called Mary "Mother of God" (Theotokos).  The feast of the "Memory of Mary, Mother of God" was celebrated on August 15 in Jerusalem by the year 350. Sixteen hundred years later, we still venerate Mary on August 15.
In every country, Catholics are very attached to their national shrine: Guadalupe in Mexico,  Lourdes in France, The Black Madonna of Częstochowa in Poland, and Our Lady of Antipolo in the Philippines, etc.  Many people come to these shrines with prayers and expectations. There are numerous stories of miracles attached to each one of them. We all need a miracle in times of crisis.
2.         Another Marian tradition is that of Our Lady of Sorrow, of the Sorrowful Mother, and Our Lady of the Seven Sorrows. This tradition takes inspiration from the prophecy of Simeon to Mary, that a sword will pierce her heart. When Mary is seen as the Mother of compassion, people ask for comfort and support. There are many painful situations (death, sickness, and unbearable poverty) when people need emotional and spiritual support rather than a miracle.  This is a common devotion in poor countries where people have little control over their destiny. The special times of this devotion are February 2 in the Catholic Church and during the Holy Week, especially during the long and numerous passion processions.
3.         Mary is also of special inspiration to the disciples who endeavor to follow Jesus in every day life. Taking inspiration from the various traditions of religious life, they make the imitation of Christ the center of their lives; they may be lay or religious. For these disciples, Mary is their mother as Jesus is their Lord. They are not lonely religious individualists because they live in the company of Jesus and Mary, the Lord and his saints, God the Father, Jesus the Savior, and the Spirit the Sanctifier. Prayers to Mary and devotions to the saints are part of their following of Jesus.
4.         There has been a general decline of devotional practices over the last two or three generations, and the devotions to Mary have similarly been affected. Some Protestants have always objected to all devotions as not found in the bible, yet "This is your mother" is Jesus' legacy to all future generations of Christians. Today one may sincerely feel no attraction to Marian devotions because they may appear as old-fashioned or immature. It is true that some plaster-like statues or overly emotional paintings may turn younger people off. Marian devotions have always been culture-bound, hence not appealing to outsiders of that culture. It is the vocation of artists, writers, preachers, and reformers to present us with attractive religious images of Jesus and Mary.
What is your preferred Marian devotion? How enthusiastic or skeptical are you in today's changing church? What would you suggest to questioning young Catholics?
TESTIMONIES
From Michael Dallaire, Canada,
michael@michaeldallaire.com, www.michaeldallaire.com

As a cradle Catholic I was imbued with a profound respect for Mary, our Holy Mother. Of course, like many of my peers who were born after WWII and lived through Vatican II and its ongoing implementation, I attended Catholic elementary schools when annual May processions to Mary were celebrated. These were important ceremonies.  But, what made the most impact upon me was the quiet witness and reverence which both my maternal grandmother, Cecilia, and paternal great-grandmother, Elise, demonstrated towards Mary. Quiet matriarchs, they practiced the recitation of the rosary as a form of personal meditation. How lucky I am to have inherited their rosaries, which I now and then pull out and use for my own meditation in times of trouble.
Later, while studying history and then theology at university, I came to understand how Marion devotion emerged from below, from the people of God, as a counterbalance to the tendency to absolutize a patriarchal presentation of God. Over time peoples' understanding of Mary's significant role of accompaniment during suffering and death, tragedy and crucifixion, has found expression in devotional practices many of which help us endure the hardships of life. This is why images of Mary are so diverse and ubiquitous, from Our Lady of Guadalupe to the Black Madonna, from Rome to the home. She continues to speak to us, drawing us closer to her in times of suffering, gathering us into her warm embrace. And this is why even today Mary, our Mother, is with us just as she was at the foot of Jesus' cross.

Anthony Stevens-Arroyo, stevensa@ptd.net
Professor Emeritus of Puerto Rican and Latino Studies at Brooklyn College

Mary, the Mother of God, has always occupied a special place in my personal piety.  My understanding of her role in theology and Catholic praxis has been shaped by the Latino culture by which I have been shaped throughout my life.  The more historical and analytical I have become about Catholicism, the deeper has become my devotion to Mary. This experience of mine runs in reverse to many academics wherein the light of analytical reason often chases away the mystery of faith.  As a scholar whose career began after the Second Vatican Council, I was initially inclined to scorn the traditions of rosary, candles and honored images of Marian devotion in my Puerto Rican home.  However, my mature research has instead led me to a role as advocate of Marian devotion in order to preserve an indispensable religious and cultural identity.  
Two historical characteristics have stayed with me: racial rootedness and matriarchal femininity. Racial rootedness is clearest in the example of Our Lady of Guadalupe:  the popularity of Mary in Mexico is understandable given the role of woman among the indigenous Aztec. This image of Mary links Catholicism with the original Latin American religiosity by fulfillment rather than by cancelation. while there was a tendency to destroy this non-European image of Mary. For me, on the contrary, indigenous images link local religiosity with the unfolding of Salvation history around the globe. 
There is also the matriarchal femininity of Mary in her various Latin American devotions.  Nothing rings closer to our family experiences than a strong woman at the center of faith transmission.  To that personal experience I add the historical context of colonialism and oppression.  For most of our Puerto Rican history, we have lived in a society where men are "emasculated" by a politico-economic system that denies the human dignity of a conquered people.  Whether under Spain or the US, the limitations placed on our male leaders has created space for matriarchy. In a colonial situation, survival often depends on replacing foreign patriarchy with native matriarchy. This is Mary's meaning to me.
Add a comment below (10-20 lines)
See Catholic Renewal Books (click on picture):
---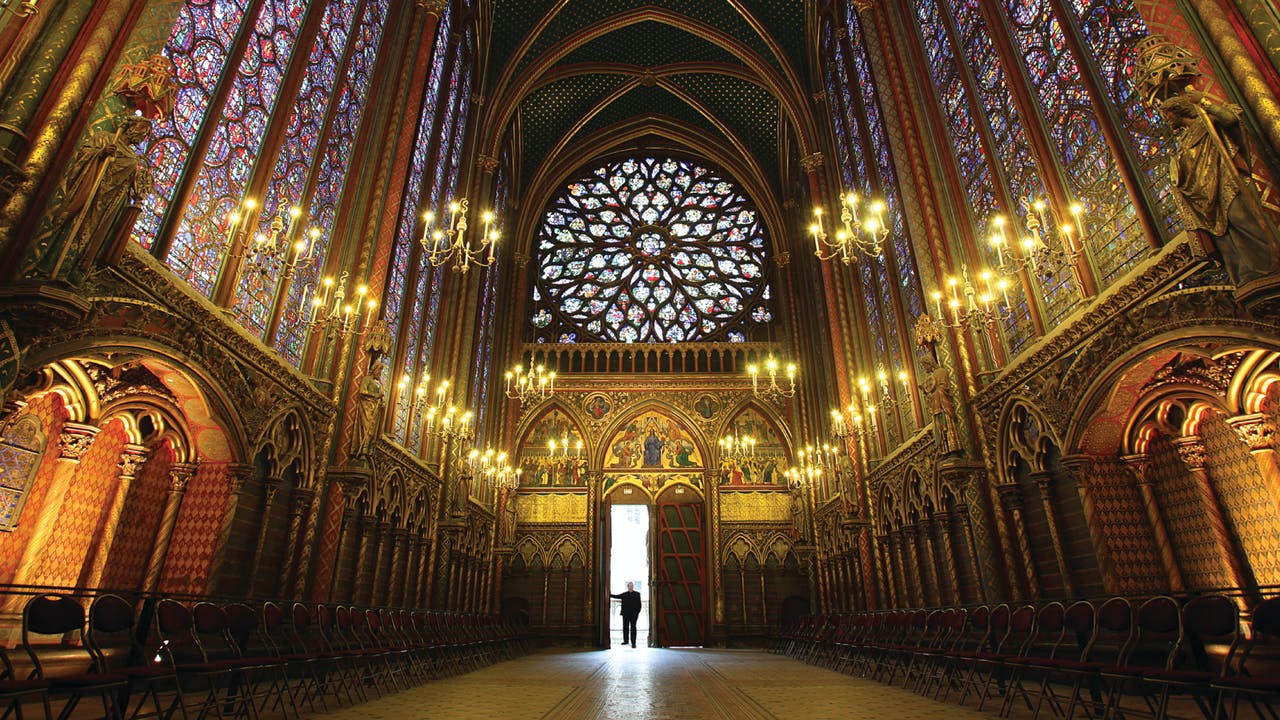 CATHOLIC IDENTITY
How do you recognize a Catholic? Here are some signs.
Meatless Fridays. The custom of no meat on Fridays and fasting five days a week during Lent has been the rule for centuries until the American bishops abolished it in 1966. According to Andrew Greeley, the US bishops' decision of 1966 was "the most unnecessary and the most devastating" implementation of Vatican II. Today, if you say you fast, people may think that you are a Muslim.  Catholic fasting has become an oxymoron.
Sunday celebration. Before Vatican II, everybody dressed up for Sunday Mass. Because few people had a car, walking to church in their Sunday best identified Catholics. Now it identifies evangelicals. Moreover, the Sunday family meal was always special. Now the family activities are fragmented according to each individual's schedule.
The church bells. On weekdays the parish bells rang for the 7 AM Mass and at Noon for the Angelus. On Sunday they rang for the various Masses, and Vespers in the afternoon. The bells also rang at the Consecration of the 10 AM High Mass. Moreover, when the death knell rang, people knew that a Catholic had died. Today, a call to prayer from the Minaret will wake you up at 5 AM if you stay in the Arab section of Jerusalem.
Processions. In past centuries, the whole community marched processionally throughout the streets on all major celebrations—like parades today on major holidays. In pre-Vatican II days, the processions of Corpus Christi and Assumption day were well attended and took several hours. On Rogation Day (April 25) the procession went to the fields to bless the future harvest. In Guatemala City, processions last over ten hours and involve thousands of participants. Today in the U.S. there are ten times more secular parades and political marches than religious processions.
Pilgrimages and vows. Pilgrimages in Christianity were once as popular as they are today in Islam. In my village there was a yearly pilgrimage on foot to a shrine a few miles away, in response to a vow made in the distant past when the plague killed most of the inhabitants. About 100,000 pilgrims come regularly to Esquipulas in Guatemala on January 15. Many told me they have had made the vow to come in thanksgiving for a favor received.
Devotions and the rosary. In my parish a long time ago, there was rosary prayer at 5 PM right after school. The rosary was the most popular devotion; many people recited it, even during Mass. There was a crucifix in most rooms of the house, and often a home-altar decorated with fresh flowers. Some people even had a statue in their front yard.
The Mass and the Eucharist. Since Vatican II the Mass is often called the Eucharist, but not much has changed.  Mass attendance has dropped by 30 to 50 percent at each generation since the 1960s. Moreover, only 31% of Catholics believe in the real presence of Jesus in the Eucharist according to the 2019 Pew report; other measurements find slightly different percentages. Both the beliefs and the practices of Catholics have drastically changed.
Many Catholic still find their identity in the characteristics described above, and rightly so. But self-identities are constructed and achieved rather than given.        
How would you identify Catholics today?
Catholics are Christians. Christ is the center and the core of his church. In many places in the world and in the U.S., to be a Christian means to be a Protestant. We must proudly claim that we are Catholic Christians.
The message of the Sunday liturgy is always given by the gospel reading. By following the gospels (eu-angelion), we become evangelical. Many Protestant evangelicals are more biblical than evangelical when they take the stories of Moses, Joshua, and David as equally important as those of the gospels. There are many Catholics who consider themselves to be evangelical Catholics.
The Catholic Church stands for unity in diversity (but in fact she often fosters unity in conformity). Diversity includes the variety of traditions throughout the centuries, not just the Tradition of official teaching. Unity means that when one member suffers, all suffer and all must help. Works of charity are a typical and traditional Catholic characteristic. Catholic diversity includes both highly rational theologies and emotional charismatic effusions. There is no conflict between faith and reason, and between faith and emotions, and the care of the body.
The Catholic imagination is sacramental and incarnational. The Word became flesh for us to see and consume. Rituals and sacraments are visual signs of the unity and diversity of Catholic beliefs and practices. Worship is most inspiring when beauty animates its expression.
How else would you define Catholic identity?
COMMENTS
From Ana Lourdes Suárez,
Universidad Católica Argentina, analourdessuarez@gmail.com
Catholic diversity includes both highly rational theologies and emotional charismatic effusions. As for my experience in Latin American countries—the region of the world with most Catholics, most Catholics in Latin America frame their faith in devotions, community practices, and a variety of practices (pilgrimages, novenas, attending sanctuaries, etc…) that are quite parallel to receiving the sacraments of the Church. They identify as Catholics not for attending mass, but for being able to have this emotional belonging from which they frame their identity as Catholics, and feed their spirituality.
A missing point in Pierre´s arguments is the Vatican, the Pope. Catholics identify with this particular kind of leadership. Not that they follow the pope's teachings; they may not even know what his teachings are (particularly in what has to do with moral sexual issues, which they certainly will not follow). My point is that they have an emotional attachment to the person of the pope.

From Simon Aihiokhai,
University of Portland, aihiokhais@yahoo.co.uk
Reclaiming plurality after Trent
The Council of Trent responded to the hemorrhage of the Protestant Reformation by enforcing uniformity: One Vision; One Leadership; and Oneness in Doctrines.  Identity, however, is not a badge. It is a way of being church in one's relationship with Christ and in dialogue with the context of one's faith community.
Catholic identity today is being negotiated in response to multiple forces in theology, rituals, church governance, doctrines, and even language. Catholic identity is challenged by women's call to leadership and ordination. One thing is certain, Catholic identity in the 21st century must open to geo-political changes, as the center of power in the Church is moving away from Europe. This shift will require great imagination.

Thomas Parmar, India
I like and love to pray Seven Rosary daily; the Rosary is in my daily life. Due to the lockdown, no church is open for daily Mass. I am unable to attend the Wednesday evening Mass with Novena to our Lady of Perpetual Help, the first Friday Evening Mass with adoration of the Holy Sacrament, and the Sunday morning Mass ...
---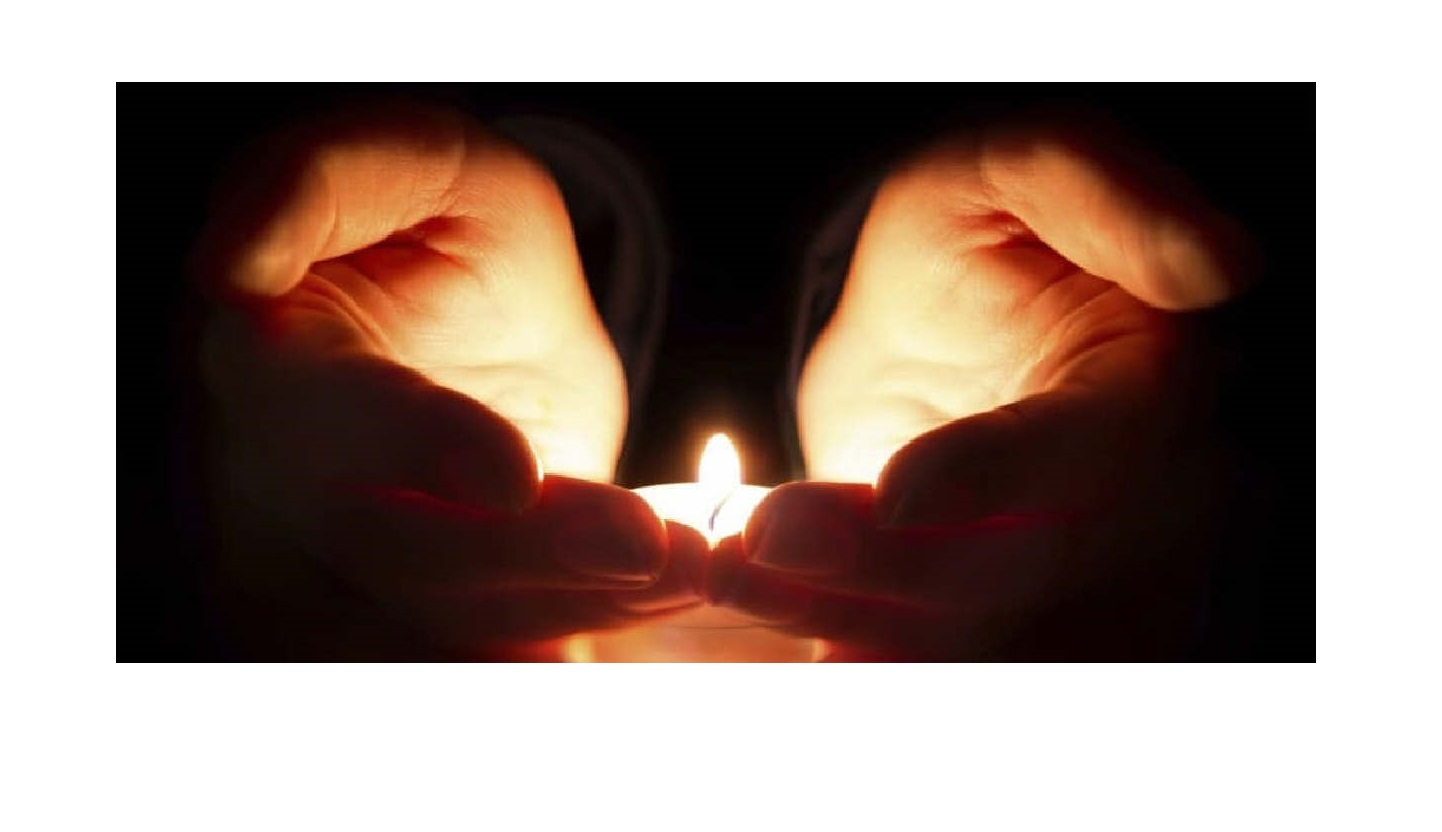 THE COVID WINTER & RELIGIOUS SELF-RELIANCE
The shut-down forced all of us to be more self-reliant. When we cannot find some groceries at our regular store, we can go to another one. When we cannot get books from a library, we can buy them. When we cannot go to the gym, we can exercise at home. And because the churches were/are closed, we can find religious services online. Self-reliance is increasingly necessary.
Most of us grew up in passive acceptance of the adult world, but things have changed. Now, throughout the 12 to 16 years of education, young people do not want to be lectured and treated as passive recipients. They want to be treated as active learners. In church we may still be treated as passive recipients but we must become religiously self-reliant. We still need the church but we have to supplement what the parishes offer. Faith is a flickering light that will die if we do not feed it by seeking what we need.
Become an active spiritual seeker! The internet is a good source of information besides books. There are the local religious TV channels like CatholicTV and EWTN and also Spanish channels like El Sembrador or Canal JesusTV from Guatemala.  Youtube.com is also a good source of inspiration. Check Bishop Robert Barron,  Fr. James Martin, SJ, Henri Nouwen, or Richard Rohr. Blogs can widen our horizon by relating to others. See the Top 101 Christian blogs, and the 100 Catholic blogs. We can find inspiration in devotions like the rosary in audio or video presentation, or in the evening prayer of Compline, or in the weekly Scriptural Reflections.
"The Sabbath is made for man and not man for the Sabbath." (Mk 2:27). We go to church to be nourished, and not just to fulfill a requirement. If your church is boring most of the time, it is not fulfilling its function and you need to go elsewhere. If we continue going to a non-fulfilling church, we may die from starvation and one day just drop out. Because a church may not be able to satisfy everybody's needs, those less satisfied must actively seek another church for the food they need.
Churches must help people become self-reliant by fostering adult education and special programs during Advent and Lent. People also need small groups meetings where we can relate to one another and share their experiences. Not only are there more members on Facebook than in all the Christian churches combined, but more importantly, about 75% of U.S. adults check Facebook daily and half of them multiple times a day. Parishes should have a Facebook page with serious discussions, not just parish pictures. A church should be a network of people who interact weekly and even daily, in public meetings and social media platforms.
The coronavirus is lasting longer than anticipated. In May, I expected it to be over by July or August. Now, it seems that the coronavirus winter will drag on for months. For this long winter, we need to become more self-reliant in all areas of life, especially in matters of faith.
COMMENTS
From Sam H. Goyvaerts,
Tilburg University, Netherlands, S.H.Goyvaerts@tilburguniversity.edu
I very much agree with the fact that the corona virus urges people to be more self-reliant. From a liturgical perspective, I noticed this was very hard for many Catholics. The liturgy, being advocated as source and summit since Vatican II, was and is narrowed down for many people into celebrating Sunday Eucharist. Of course liturgy is much more, but for many catholic faithful in my country (Belgium), liturgically practicing their faith means: going to mass on Sunday. The rich array of devotional practices in Catholic Flanders prior to the 1960s has largely disappeared. Where many families used to have the habit of praying every evening (a decade or some mysteries of the Rosary) and all the faithful knew the Angelus by heart and were reminded of it three times a day with the bells of the church, is over.
People's missals containing not only the texts of the mass but also including many house, garden and kitchen prayers, can only be found at flea markets. The liturgical, devotional life of people outside the mass has disappeared. Even before the corona-lockdown, I noticed that students and people around me didn't know how to pray anymore. The question which the apostles asked Jesus: "Lord teach us how to pray" has become extremely topical because of the corona crisis. I'm strongly convinced that church communities should indeed, as you write, work on adult education in small groups, but first and foremost help people to pray. The liturgy is indeed the source and summit of Christian life, but in order to reach that summit one can find a slowly ascending path of Christian devotional and liturgical practices that, over the past fifty years, we have not walked enough together with people, at least as far as I can see in my region. Fortunately, the corona crisis has also shown the great value of social media in view of this, as you rightly describe. Let's certainly use them as well as possible to introduce people to the rich and long-standing tradition of prayer and liturgy, which is – let us not forget - is much broader than just the Sunday Eucharist.
From Simon Aihiokhai,
University of Portland, aihiokhais@yahoo.co.uk
The current global pandemic has offered Christian churches an enviable opportunity to be more imaginative on how to understand ministry that is relevant for our times. With this understanding, one has to ask the following question: In what ways must the current ministries in our Church today be re-imagined to allow for new charisms to emerge? Remember, all ministries are at the service of the baptized, including the very ministerial one through which we are introduced into through the waters of baptism. In other words, to be a Christian is to be called to a life of service (diakonia) to all of God's people in God's world. Can we today look at the family itself as a form of ministry in the Church? It is the first place where the imaginative power of church rises up to the surface of our ecclesial consciousness as people tied together in the Spirit of fellowship (koinonia)? In what ways, then, can the Church allow home rituals carried out by family members become a way of enacting the call to holiness that baptism invites us to? How can these roles also allow for the expression of the one priesthood of Christ? In what ways can the role of healthcare workers today become a form of diaconal ministry to God's people to make possible the reconciliation and wholeness of the sacrament of anointing of the sick? Especially because we have been forced by the current pandemic to abandon our loved ones to go through the journey of dying alone?


Add a comment below (10-20 lines)
---
Bishop in El Paso kneeled for George Floyd.
Two days later, Pope Francis called
Bishop Mark Seitz's act of kneeling in prayer for 8 minutes and 46 seconds to remember George Floyd prompted a call from Pope Francis this week. By Alisha Ebrahimji, CNN.
With eyes closed, masks covering their faces, white roses in hand and handwritten signs that read "Black Lives Matter," Seitz and 12 other priests from the Diocese of El Paso knelt in silence for 8 minutes and 46 seconds on Monday.
They were praying in silence for George Floyd, a black man who died in the custody of Minneapolis police after an officer knelt on his neck for that same amount of time. "Frankly, what I did and what I have said is only a very small way to take part in what so many are doing in their peaceful protests," Seitz said.
Two days after the clergy's prayer, Seitz had just finished celebrating Mass when he got a call on his cellphone from the pontiff himself. In Spanish, Francis told Seitz how grateful he was for Seitz's response to Floyd's death. "Through me, he's expressing his unity with everyone who is willing to step out and say this needs to change," Seitz said. "This should never happen again. Wherever there is a lack of respect for human beings, where there's a judgment based on the color of their skin, this has to be rooted out. Whether it's in law enforcement, in business, in government, in any aspect of our society, this has to change. And now we know very clearly that the Holy Father is making this his prayer."

---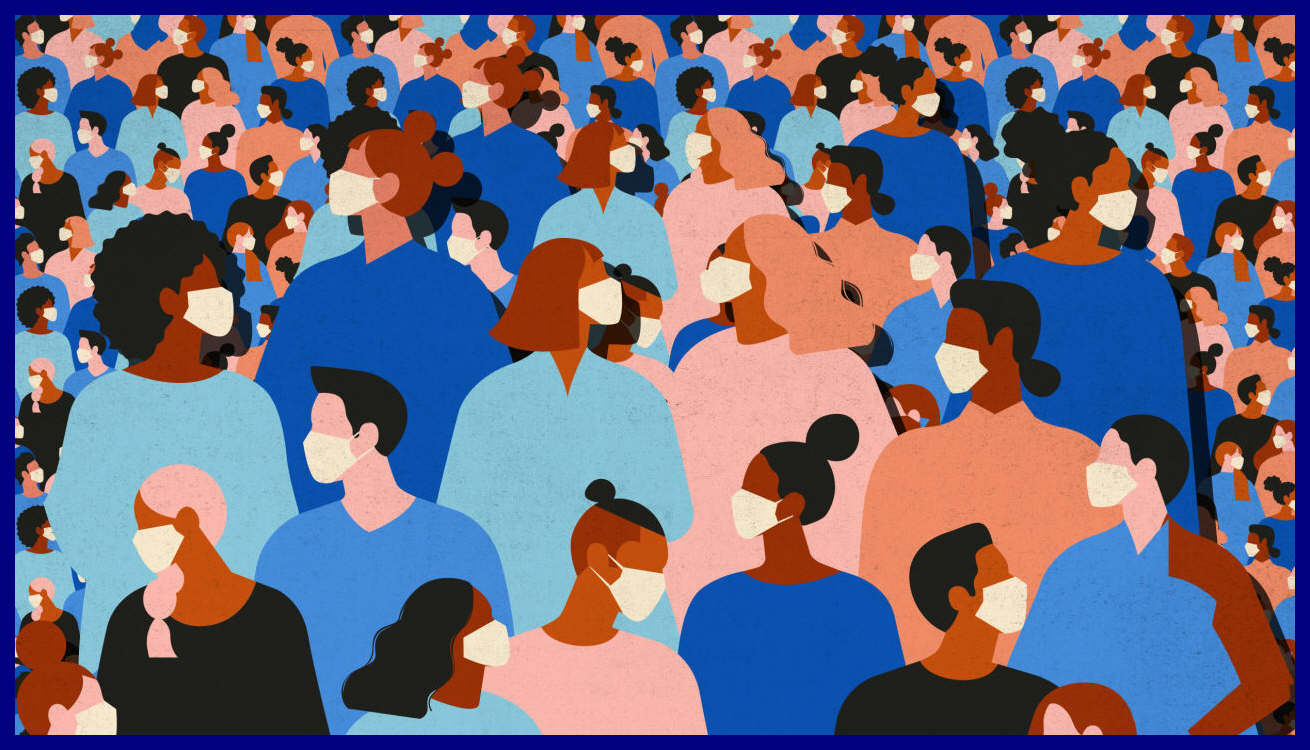 WHAT THE PANDEMIC HAS CHANGED
Life in New York is slowly returning to normal. The pandemic has changed most of us. It has changed business, education, politics, and religion. What did I miss? What did I gain?
As the above picture suggests, the basic image of the pandemic was that of masks isolating us from one another. The first weeks were most unpleasant because of separation from family and friends. I had to adjust and quickly organized Zoom conferences with many family members. WhatsApp video calls have also been very useful. Actually, the pandemic brought us closer together, as the face-to-face conversations via zoom or whatsapp are more gratifying than telephone calls.
The pandemic passed me by.  I had two sick people in my house, unable to work because of the virus, but it did not touch me. I was blessed, and am aware that there were many deaths in Long Island where I live. What about you?
Life in the distant suburbs is quite different from city life in apartments. Here there was no problem going shopping for food and other necessities. Life was practically undisrupted. The barbershop was closed. When my hair got too long, I simply cut it myself, and easy job without much damage.
The quarantine encouraged self-reliance. From what I can see, school children in my family became more responsible because they had to follow a discipline of work and fun: 40 - 50 minutes of work followed by half an hour of fun activities, every day and every week for the last three months. The schools had well-organized schedules of daily lessons, video conferences, and personal tutoring.
The shut-down forced us to be more self-reliant. The gym is closed? Then exercise at home (I did what I could). The libraries and schools are closed? I had to buy books instead of renting them. Food and house supplies? Plan ahead. The restaurants are closed? Do more home cooking. I remembered two family recipes from the 1950s which I had never tried. Generally, it was a return to home cooking. Was it so in your family?
I was somewhat disappointed by the churches around here. They did nothing, for the simple reason that they were not prepared technologically. Most churches do not have the telephone number and the e-address of their members. The senior citizen center of my town called me to inquire about my health. I would have liked my church to call me. Again, I had to become more self-reliant and find on the internet some food for thought, and I found a lot! Will you go back to church after watching services on your screen for three months?